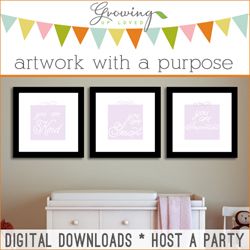 If you've been around the blog for the past month or so, you may have seen a new sponsor,
Growing Up Loved
. While I was beginning to write about Growing Up Loved for this post, I found a page on April's website that explained her company even better than I could have, so here's here story:
While I was working on my blog, www.riseabovelife.com, I realized how important having a daily reminder of hope, inspiration and positive messages were in my life. I wanted to add art to my home that was meaningful and served a purpose besides just being cute. My kids were being bombarded daily with negativity and discouraging comments. When my 8 year old daughter told me that she was fat and ugly because she had glasses and was missing her front teeth I was appalled. Here was this beautiful, smart, loving and kind little girl who was beautiful inside and out and was doubting her own self worth. My heart broke.
I searched all over the internet and local shops to find wall art that I could put up in my little girl's room to remind her how loved and beautiful she was on a daily basis. I was surprised at how difficult it was to locate. I finally decided to create my own art. I made artwork for all of my kid's rooms and for my family spaces. Friends and family kept asking me where they could get one for their own home. I decided to create
Growing Up Loved
to fill the need for positive and encouraging daily reminders in our homes and especially in our children's lives.
I offer affordable digital downloads of my artwork that you print yourself to save money. One of my favorite products is our collection of images that become a dry erase board when framed to write love messages to your kids. Each one of my kids have one in their rooms and they look forward to seeing what I will write on it while they are at school.
Hope, Joy & Love,
April
April was kind enough to send me a few products to review, and I love this idea! A quick digital download leaves me able to use the artwork wherever and however I like it. The downloads can be printed off, matted, and framed - or even used as computer screen wallpaper! There are several designs that I absolutely LOVE, especially the whiteboard designs. My favorite is where you can customize the artwork with your child's name, and then you can write them little messages every day of why you love them.
So sweet!
I'm planning (
amid my other bazillion projects going on right now!
) a gallery wall in our hallway and upstairs hallway and the prints I received from Growing Up Loved are going to look great as accent pieces among our family pictures!
Definitely head over to
Growing Up Loved
and check it out!