Today's guest post comes to us from one of my favorite family members- who has a really similar parenting style to mine. It's really wonderful to have someone who understands your choices as a parent, and vice versa. Michele's children are a few years older than ours, so it has been great to hear her input on how she parents those stages of childhood as well! Here are a few of her words on keeping it fun in her family!

So our family is not as "crunchy" as the Naptown Organizer (I delivered 2 babies by c-section, we never used cloth diapers, and we give our children cow's milk… I could go on).

With that said I did in fact nurse my babies up until 2yrs old, we dabble with organic food, and we do randomly shop second hand – does this count? But I think it's true when it comes to parenting and love and children we're all in the same boat together.


Our family believes strongly in, well, family.

I left my career at the height to become a stay at home mom and rarely have had the time to look back. My children are now almost 6 and 9 and here's a glimpse into us: we love the outdoors. Our kids never beg for toys (I can count on one hand the amount of times we've been to Toys R Us). We've never been to Disney. We have no Wii, Playstation, DS, etc. My kids have no allowance but love chores. My kids understand and have practiced what giving back to others really means.





Here's one thing we do have: we live a simple life. We have a great life, it's far from perfect but it's ours.

We now embrace the hustle of afterschool sports and activities, but we do not over-schedule or agree to anything that would cause chaos in our lives. I can be a bit over anxious, and my children truly feel when rushing or commotion is upon us and do not receive this well, even at their present ages.

We can easily get caught up in committing to much more than we can handle, especially in today's society. I do not subscribe to this way of life nor do my kids. They enjoy a relaxing afternoon after school regrouping, and I give them this time to unwind.


My kids each play one sport at a time and- if they choose a school activity (girl scouts, hiking club, piano, etc.)- they can do that as well. I love taking them to practices (bonus – one on one time with the other child is great during these times!) and don't feel overwhelmed and exhausted like many parents I see at that time of day.


Simple fun, together fun is what it's all about these days in our home. Daily walks in the stroller when they were little led to walking hand in hand counting the steps between cracks in the sidewalk, led to bike and scooter riding, led to what we now love: scavenger hunts in the yard. We enjoy the simple pleasures of play. I am a mom now, and I respect my "job" and do it the best I can.


My children would rather spend weekend time together as a family than in the hustle bustle of chaos. We are at a time now where I give hugs & kisses and send them to school, however our time together is so important and critical.

Listening to my daughter come home from kindergarten and with pure excitement tell me about what happened on the playground or who she sat next to at lunch and what they wore and how she'd like to do her hair tomorrow is pure joy. Hearing from my son how he caught an amazing pass in flag football and ran to score at practice is sheer pride. Spending a random Saturday taking a hike or swimming together or even just washing a car is what our family lives for.

We do not need a lot of "things", because the real things in life are moments!


So, if you are feeling anxious, rushed or have the "I can't say no" tendencies, slow down… watch your children grow, play with your children, read to them and listen to them. Simply put – be THERE for your children and the rewards will multiply.

Thank you Michele! Readers- what are some ways you try to keep it less chaotic and more connected at home?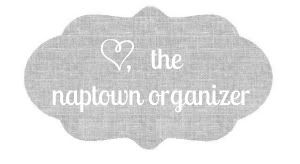 Pin It