I've been posting more lately on the blog about pregnancy and parenting, which I LOVE being able to talk about. However, I do want to get back to my roots a little bit and discuss another topic near and dear to my heart: organization and planned living tips.
Starting next week after new baby has been born, I will be trying (*and I highlight the word trying because we all know how easy it is to accomplish much with a newborn at home!) to post once per week on Thursdays with "The Naptown Organizer's Tips & Tricks" post series.
This will highlight simple ideas that help keep our home and lives clean, organized, and put-together. The tips are just simple ideas that have helped make some of our daily tasks a bit easier and less stressful.
Have an idea or question that you'd like to see addressed in a TNO's Tips & Tricks feature post?
Email me at thenaptownorganizer@gmail.com and I'll try to come up with a solution for you! I'll also feature reader tips and tricks if my readers would love to send in submissions or suggestions!
Thank you again for following, and I hope you all love the new Tips & Tricks that are coming your way!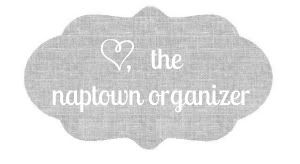 Pin It