For those of you that have read the blog from the beginning, this may sound familiar!
My very first post on the blog was to upload a weekly cleaning schedule for a few friends that had asked me to share. And, there was born The Naptown Organizer. :)
Since that time, while I'm not always 100% strict about following the schedule, I still follow portions of the schedule religiously, like clockwork.
No matter what I'm doing on Mondays- it is always laundry day.
And no matter what I'm doing on Tuesdays- it is always ironing day.
Since those tend to be the biggest time commitment for me in my weekly chores, I always set aside time on my days off to specifically do these chores. Since I've been doing them on these days for so long, it is an automatic habit for me. When little man goes down for a nap on a Monday, I don't even think to sit down first. I just function sort of on autopilot and go upstairs to bring down the laundry ready for the wash. It's just a habit at this point.
By making yourself do a task on a specific day, and holding yourself accountable to completing that task, it is much more likely that the mundane, day-to-day chores are going to get done.
It's the same thing with my night-time rituals. Every night after little man goes to sleep, one of the first things I try to do is wipe down the kitchen table and all of the counter tops. If it's been a particularly messy day, the floors get swept as well. If there are dishes sitting out, they get put in the dishwasher. Those little things take only 10-15 minutes to complete at the end of the day, but they are so worth it.
I promise you- it is SUCH a great feeling to wake up to a clean house the next morning!
Especially for me- as I tend to feel overwhelmed already when I walk into our kitchen for breakfast and am greeted by crumby, messy surfaces and yesterday's old, gross dishes staring me in the face.
Since I won't be returning to work for a third weekday each week now, I plan on adding to my schedule. Likely, because the bathrooms are the next, most pressing chore on the to-do list (no pun intended, lol!), the bathrooms will be my third day off task.
It really is that simple.
Just pick a chore, and pick a day. Start doing it, and keep doing it.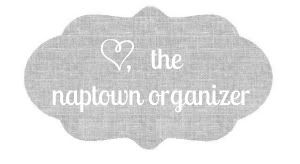 Pin It