Little man officially has a security blanket.
And it's adorable.
I know that he is extremely regimented and orderly like I am, in many ways, but when he goes down for a nap or for bedtime, he HAS to have a certain number of items with him.
At this time, that list includes his: Owl, Duck, Monkey Taggie Blanket, and Elmo Doll.
When he gets ready for a nap or bed, each of those items has to be placed in his bed surrounding him. I'm not sure if it's the transition into the toddler bed that we recently did- if he needs to feel that security from those items in a bigger, non-enclosed space? Or, maybe- he's just learning to love those objects and wants them around.
Either way, he wants those stuffed items in bed with him, then if the fan isn't already on, he'll either ask us or remind us to turn it on before we leave. (I've heard a few times on my way out of the room a teeny voice peeping out, "Fan on, mama?" before I leave. It is too cute!)
Most days, when he wakes in the morning, he also wants to take one of these items (not the fan, obviously!) down to the kitchen to sit with him during breakfast. If it is his monkey blanket, he'll let that hang on the back of his chair, so long as it is near. If it is his owl, duck, or Elmo- he'll typically either sit them right across from him in the center of the table or he'll actually sit them in the chair next to his little body.
After breakfast, he will often continue to play with his loved item. The other day we spent a considerable amount of time changing Elmo's prefold diaper, snapping him into the swing, and rocking him to sleep for "Elmo's nap."
I know many parents warn of having to buy multiples of stuffed loveys, but at this point, he seems happy with the wide variety of security items he has. And- to me- it is absolutely adorable that he loves these items that much.
Does your child have or has your child had a security blanket or item? What was it?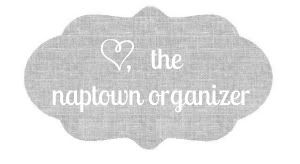 Pin It