One more random to-do list update, I think. We're so almost there!
______________
- Call insurance company, try to get started on getting my new pump. This will be a whole new post. I've been encountering a few issues here and am waiting on a call back from an insurance rep.
- Pack hospital bag. The baby's outfit is now in the bag! Does that count?
- Finish little man's toddler room. Secure dresser to wall, finish spray painting wicker baskets, finish painting oars, finish organizing book shelf, find picture frames and pictures for book shelf. Send out fabric for bunting flags and hang them when they are done.
Done! I'll be posting a blog update of little man's toddler room as soon as I get some pictures taken, likely to be done this weekend!
- Make freezer meals. Does it count that I bought a few premade Stouffer's meals? ;)
- Stock up on groceries/pantry staples we'll need after the baby (such as milk for little man, snacks, bread to freeze, easy dinner options like macaroni & cheese, etc.). Halfway done!
- Submit all required FMLA/STD paperwork. Finish all discharged charts, orient maternity leave coverage SLP to all of my clients. Finish getting all co-workers competencied on the Visi-Pitch equipment. Close to done. I still have to submit some paperwork, but I'm mainly done.
- Clean the carpets. DH has been fabulous and is coming home from work every night and cleaning one more room of carpet. This should be done by the end of the weekend!
- Deep clean the heck out of the house.
Done. My amazing mother hired a cleaning service to come out and clean our house! Baseboards were cleaned, windows were cleaned, and blinds were cleaned as well as the normal every day cleaning to be done. It.was.wonderful!!!!
-Stock up on all new baby basic need stuff that I used last time around, like breastmilk storage bags, newborn disposables for the hospital, Lansinoh soothing gel pads, etc. Partially done. I've also been thinking about trying Earth Mama Angel Baby's booby tube things that are supposed to help with engorgement/clogged ducts/etc. Has anyone used those? Are they worth the cash?
- Finish all of the little baby proofing tasks we've been putting off because we're able to keep an eye on little man all the time now.
Done! All furniture is secured in his room, TV is finally secured in the living room. Well, almost done, I think there is one more drawer DH has to put a lock on in the kitchen, but only because little man realized he could get the spoon drawer open a week or so ago.
- Even if we can't get out for a real date, at least order in pizza one night and watch a few movies just DH and I after little man goes to bed. Partially done. We've been catching up on our Top Gear episodes!
- Put my feet up for like 10 minutes before this baby comes? Hopefully this will happen as well, as I've planned my last official day of work to be at 38 weeks pregnant. Although, because of this, I'm either predicting baby girl will be born at like 38 weeks and one day, or she'll be born in January, because- you know- that's just how this stuff works!
(Not that I'm counting or anything, but I officially have 3 days left of work! Wooooo!)
- Stock up on more sleep sacks. I think we picked up a few more. I could always use more sleep sacks, but we'll see where we're at the first few weeks and if not DH can make a run.
- Stock up on more 0-3 and 3 month clothing.
My awesome mom brought over a ton of 0-3 month sleepers and I was able to pick up a few off of one of my Facebook Marketplaces for cheap. Win!
- Finish purchasing Christmas gifts and wrap said gifts. Halfway done. Of the gifts we have, I'm 75% done with wrapping. I only also have I think two gifts to buy at this point.
We are really chugging along! I think that when I finally get finished with work, I'll have a little more time to focus on some of these things. I also think that DH has really kicked into high gear lately and has been so awesome at helping me cross a ton of things off of our to-do list.
Less than 20 days left to go until my due date!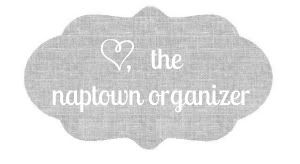 Pin It