Hey all!
Before I go into labor and have this new baby, I have a few updates to post here, as I know life gets chaotic very fast with a new little babe and I want to make sure you all have warning before I go through a few transitions!
First off, if you follow the blog mainly by coming to the page from directly typing in the web address, follow on Bloglovin', Google Friend Connect (see my right hand sidebar), or other method than my Facebook page, you may want to like the Facebook page if you're interested in getting new baby pictures and updates!
I will continue to post after having the new baby, but will be featuring a number of guest posts from some excellent writers over the first few weeks/months while we adjust to being a family of four. Typically, the Facebook page is the first place I'm able to update one-handed from my phone with pictures, as well as will be the first place I update with labor/delivery information, if you're wanting to follow our journey!
(If you're a follower from Twitter, my Facebook page automatically syncs to my Twitter account, so you will receive all the updates there!)
Also- in big news- I'm getting a face lift.
In the coming month or so, not only will I very likely be transitioning to TheNaptownOrganizer.com instead of TheNaptownOrganizer.blogspot.com, but the blog will also be getting a new, schnazzy design!
So, if you're randomly stopping in one day to read a few posts, and the page looks a bit different, don't worry, I promise it is still me!
I'm really excited to get a few of these changes going very soon, but there may be a few bumps in the process as well, so bear with me during the 'construction' process!!!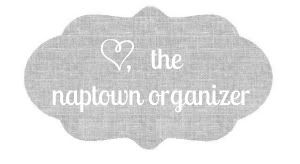 Pin It