It's taken me a little while to get these pictures taken and posted, but little man's toddler room is 100% finished and in use! Here are some pictures below!
We were really, really lucky that I have amazing friends and family who are super crafty and who love us enough to spend a ton of time putting things together for us for little man's room! Here are some of the details:
- Bed and Dresser were purchased from Ikea, as well as table and chair set.
- Bookshelf was purchased from Target.
- Lamps, floor poof, and fan purchased from Target.
- Bedding was made by my amazing Aunt Lynn.
- Curtains were made by my mom's wonderful best friend (and my second mom!) Paula.
- Bunting flags were made by the super sweet and ridiculously crafty PJM from The Pajama Mama blog.
- Pillows were made by the awesomely fast and caring Melinda from Life with Blog.
- Accessories (wooden balls, wall words) purchased at Meijer.
- Wicker baskets were really old that we already had, just spray painted to the correct colors by DH.
- Wooden fish were purchased from Etsy from The Seaside Collection.
- Wooden oars were purchased from Etsy and painted by me.
- Canvases were purchased from Joann Fabrics and painted by me.
- Striped initial was purchased from Joann Fabrics and painted by me.
Overall, I'm really happy with the way the room turned out. It took quite a bit of work from our friends and family on the fabric projects as well as for DH and I on the crafts and furniture building. If you remember, you also saw in my preview post the amount of storage we created in bins in little man's closet. You can find that post here. We were actually able to fit 90% of his toys into the closet in his toddler room, which has decreased the amount of toys in our living room and office by leaps and bounds.
As for safety, all of the furniture is tacked to the walls, including the dresser, bookshelf, and storage bins in the closet. The closet door now has a lock on it, as well as the inside of the bedroom door- so that little man cannot get out into the hallway near the stairs during the night. (The stairs are also baby-gated as well, just in case.) The lamp and electronic cords are all tacked to the walls and all the plugs are either covered by furniture or with plug covers. Thankfully, the lovely Paula lined our curtains with blackout liner, so we can leave the blinds up and the cords secured away from little man's reach at this time.
As I've mentioned previously, we have also been able to move little man into his toddler bed relatively easily. We've had one fall out of the bed so far in the past few weeks (which required a few kisses and hugs, but then he was fine), but otherwise it's been smooth sailing- no pun intended.
What do you guys think?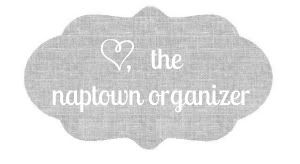 Pin It