Welcome back to the Mommy Makeover Challenge! We're on day six of a seven day challenge, but you can still join us tomorrow to link up! Check out the rules here!
Yes, it's Saturday, but I work on Saturdays, so that means I have to drag myself out of bed and look presentable on the weekend. Ugh.
How long did it take you to get ready? I get to wake up quite a bit later on Saturdays, almost an hour later, so I typically move a bit slower and take longer to get ready. I'm pretty sure it was a little over a half hour today.
What did you do differently than your normal routine? Instead of picking out something easy for work, I actually looked for an outfit that I didn't mind wearing after my shift was over. Since I had such luck on Thursday with just staying in real clothes after work, I tried to do the same today.
Did you go anywhere outside of the home? Where did you go/what did you do? I ended up working a pretty long shift today, and after I was finished at work, had to run a bunch of errands before getting home to DH and little man. By the time I did all of my errands, got everyone fed and bathed and in bed, I was back in my pajamas for the night.
Did you feel any differently? Yes. I actually hadn't worn this sweater to work before. If you look closely at the shoulders, there are little cut-outs and you can see through some of it. I tend to dress somewhat conservatively for my job because I do work with the elderly, and I had been apprehensive about wearing something you could see a tank or bra straps underneath. I made sure I had an extra tank on under the sweater, swooped my hair in front of my shoulders, and figured I'd try it out since I'm trying to look different this week. I actually really LOVE this sweater and felt really comfortable but still felt that I looked nice the entire day. To be totally honest, there is a coworker of mine at the hospital (I'm not sure if she is a social worker? I haven't ever spoken with her) who is always dressed to the nines at work. Hair done up, adorable shoes, trendy clothing- you know the type! I passed her in the hallway and actually didn't feel like the big, pregnant lady for a change. It was a good feeling!
How did you ladies do on day six of the challenge? Link up or let me know in the comments below!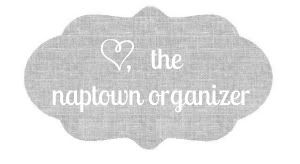 Pin It