(Have you entered the Boba Carrier Giveaway? Find it here!)
I posted about this on the blog's Facebook page the other day, but I went and got a haircut/style recently. As I mentioned, the last time I had my hair cut was for family pictures, one year ago. This time? We're getting family pictures done in a few weeks, so I needed another cut.
Yep, only once a year.
Thankfully, because I'm extremely cheap, I scored a Groupon for a haircut and highlight for a really low price. I think it was supposed to cost around $60 for the Groupon ($150-something typically), but since I had referral cash in my account I ended up only paying somewhere around $30. I did tip, though, so that added a little bit on the top.
Obviously, you take a chance when you get your hair done on a Groupon, because most times it is a newer stylist trying to gain clients, but I've done this for the past few years and haven't had terrible results. There are a few parts of my hair that I'd change, but overall, I think it went pretty well and I'm happy with the end result.
Here's a before:
And here's my after picture:
My after picture was actually taken the next day, because my phone died on the way home from the appointment, while I was talking to one of my bloggy friends. (I'm sorry Nicole!)
I'm really thankful that I went- it was a pretty relaxing experience. I'm not used to having someone else wait on me for a few hours, and that felt nice. I'm honestly pretty sure I fell asleep in the shampoo rinse chair because I was so relaxed when she was doing the conditioning treatment.
Typically, this type of thing goes against my crunchy nature. Not only am I using actual hair products like shampoo and conditioner, but I'm also letting someone put tons of chemicals onto my head. I justify it a few ways. First, I only do this once (maybe I'll start doing it twice now?) per year. Moderation is key. Second, I'm doing foiled highlights, which I feel is just a little better than all over color, because the chemicals are only touching my hair (which is already dead) and not actually touching my scalp. Third, I really, really don't want little man or new baby to grow up and think their mom is a schlumpy slob. Hence the Mama Makeover Challenge, which I'm still doing a decent job of keeping up.
Have you done anything recently for yourself? Tell me what you've done!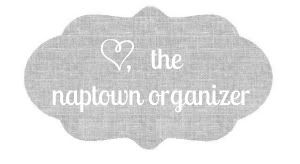 Pin It