Lately, as you may have noticed, I've been getting into doing my hair more.
Before I go any further, this is the EASIEST way to curl your hair I've EVER found.
Seriously.
I timed myself curling my hair with my flat iron this morning and it took me exactly 9 minutes and 30 seconds. Yep, just under 10 minutes. Do you have 10 minutes? Yes? Then you can do this hair style. Here's a look at the finished product:
For this hair style, all you need is your hair and a flat iron. I did not use any product in my hair, although I suppose you could, the curls would just stay tighter for longer. I've never been one to have a hairstyle actually stay in my hair without going limp 10 minutes later, but I promise, I still had curl at the end of a very busy day! (I've updated a picture at the end of the post as to what the curls look like at the end of a day without any product on my hair for your reference!)
The technique is SO simple. Instead of running the flat iron straight down your hair, like you were straightening your hair, you twist it up 180 degrees so that the hair is wrapped around the edge of the straightener, pointing up in the air. Take each piece of hair and run it down the straightener flipped up toward the sky. The slower you pull the hair through, the tighter the curl will be. (Check out the original tutorial I used
here.
) One of the commenters in the original tutorial remarked that it is like curling a ribbon with scissors, and that comparison really seemed to make sense to how this technique is completed.
And, that's it! You're done! Really pretty looking soft curls with wave and body are so easy with this flat iron curling technique. You can also choose where you want to start the curl, so if you'd like more curls higher, you can start closer to your scalp, and if you're like me and want more curls underneath the level of your chin, you can start lower down.
The picture I took below is of me after an entire day of running around. This included work, errands, and taking little man out on a walk in some pretty windy fall weather. I did brush my hair out at the end of the day as it got tangled during the windy walk. Again, I did not use any product, but I was still happy that I had some body and curl to my hair at the end of the day as well!
I did try this with a simple spritz of hairspray on a workday more recently as well and found that the curls do stay much tighter with just a few sprays.
You ladies really need to try this out, it is SO quick and easy! The flat iron curls are at the TOP of my list right now for easy hair options. And, you could always add a
headband braid
or bang braid to this style and have curls and braids, which is twice as cute and would only take a few quick minutes of braiding before you went to bed the night before!
If you try this tutorial, head on back over here & tell me in the comments how it worked on your hair! I'd love to get some feedback on this one!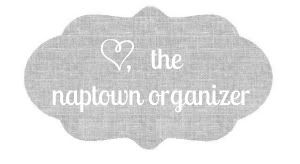 Pin It