I am ridiculously excited about this giveaway today mamas!
My lovely friend Sarah over at BumbleFly ~N~ ButterBees has so graciously agreed to host a giveaway on the blog of her extremely functional but still massively cute Door Jammers! Here is a little note about BumbleFly ~N~ ButterBees!
Hey All at The Naptown Organizer! I'm Sarah, a stay at home mom to two crazy boys and one silly girl. My husband and I have been married for 8 years this October! I have my Bachelor's of Science in Business Administration in Marketing from the University of North Carolina Charlotte.
I started my online store a few years ago when I was at home with the boys and needed a bit of me time. My husband is amazing enough to watch the kiddos when he gets home from work so that I can have a break and craft. Now I am a regular at one of the Farmer's Markets in Charlotte, at craft shows, and you can find me at my online Etsy site.
Most of the items I make are due to someone coming up to me and saying, "Hey Sarah! Can you make me this?" To which- 99% of the time- I reply, "Sure!" I love taking custom orders and trying out new ideas!
As I mentioned, Sarah sent me a few of her Door Jammers and is giving away THREE Door Jammers for you guys! Don't know what Door Jammers are? I'll explain below.
Door Jammers are cloth rectangles with tabs added to the ends to secure to your door handles. These small pieces of cloth are massively smart little devices that allow you to open and close your nursery door without turning the handle or having to hear the loud click of the door shutting the entire way. As a new parent who checked on little man all.the.time at first, these would have been extremely helpful. I can't even recall how many times I went to check in on him and accidentally woke him up by being too loud with the door.
If you've never seen a Door Jammer, check out the two BumbleFly ~N~ ButterBees sent me here:
One of the main things I've noticed as well is that when our Door Jammers are on (the brown on little man's door, and the cream on the nursery door) that the doors don't pop out of their casings when I open them. I've also noticed that when the air conditioning clicks on and off, the doors don't rattle at all in their casings, which even sometimes wakes me when I'm sleeping at night in our room. (Sarah- Can I get an extra jammer for our master bedroom???) :)
I love, love, love our Door Jammers! I'm a huge fan of the BumbleFly ~N~ ButterBee's brand of jammers because of a few reasons other than just how awesome and useful they are. #1- they aren't adorned with ribbons or bows, and look really clean and modern, so they fit into our home and my decor for our son. #2- Sarah will custom make your jammers to your specifications. I asked her for really clean, modern looking designs without showy prints, but she can tailor these to YOUR specific decor. Have a fabric you used for your nursery curtains or bedding? She can make something to coordinate!
Here's the great part, Sarah from BumbleFly ~N~ ButterBees is giving away THREE free Door Jammers to three lucky readers of The Naptown Organizer! All you have to do is enter the rafflecopter below!
Good luck, and as always, email me at thenaptownorganizer at gmail dot com with any questions about using the rafflecopter to enter!
a Rafflecopter giveaway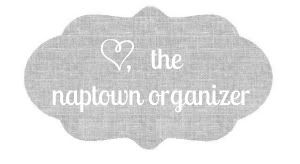 Pin It