So baby items.
You can spend a TON of money on baby stuff that really ends up being just stuff, sitting in a closet, collecting dust. While each baby is different, there are a few things that REALLY worked for our child and were completely worth the cash. Today I'm linking up with Growing Up Geeky to share my top, most favorite baby items.
1. Aden & Anais Swaddle Blankets:
These things were/are awesome. After swaddling with these blankets, I rarely use anything else for a swaddle. These seemed to be the only blankets that were large enough but stretchy enough (without losing their shape) to hold little man in a swaddle all night. Not only that, but we still use them. On a cooler summer day I'll throw one of these over little man outside or during his nap when it is warmer but I still think he needs something to cover him up.
2. Moby Wrap:
Little man LOVES being worn, and as a newborn he functioned similarly. There were days where my back would hurt so badly from carrying him around all day, until I realized I should have been using the Moby all along. Once I learned that the Moby Wrap was perfect for, well, most anything I needed my hands for during his first few months, my back felt much better and he was so much happier than if I were constantly trying to set him down.
3. Prefold diapers used as burp cloths
We purchased several packs of prefold diapers specifically to use as burp cloths. Because little man had reflux and was CONSTANTLY spitting up (some days I wonder how he even gained weight), we were always in need of a burp cloth. Prefold diapers (we went cheap with just the Gerber brand from Target, not what I'd use on his bum, though) were the perfect absorbency for the many, many spit ups he had in a day, as they could clean more than one spit up, and I wasn't washing 345,658,237 burp rags per day.
4. Footed Sleepers
Little man pretty much lived in footed sleepers for the first few months of his life. No mess with matching clothing items, no constantly having to find/replace discarded socks, and constant snuggly warmth. Some of our nicer footed sleepers even have fold over cuffs for the hands, so that at night we were able to keep his hands warm without worrying that his mittens would never actually stay on his hands. Plus, to be honest, while he was a really small babe, I didn't do a lot outside of the home, and I was in my pj's too :)
These are the top 4 items we used the most during little man's first few months with us. There are plenty other things we also used, but these were the things that I'd say we couldn't have lived without, and that we really got our money's worth in terms of use.
What baby items did you LOVE? Are any of them on this list?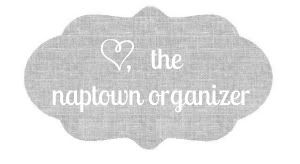 Pin It