This week I'm really excited to introduce my newest sponsor, Liz Hoitsma, a Jamberry Nails Independent Consultant. Liz is a mama of two who is a work-at-home-mom via selling Jamberry Nails. If you haven't yet heard of Jamberry, it is a really new, popular wave of nail shields that are applied to your fingernails to give the same look as finger nail polish, but last quite a bit longer. I believe their finger nail shields can last 2+ weeks and on your toes lasting up to 2 months or more! Jamberry nails are made in the U.S.A. and are vegan, which is a great influencing factor for me.
Recently, Liz dropped off a set of shields for me to try out, in my favorite design of chevrons- swoon! :) She's also agreed to run a giveaway for my readers this week as well. After the review below, you'll find a rafflecopter giveaway for a FREE sheet of Jamberry Nails in your color/design choice, so that you can try them out yourself as well! You can browse more of the design/color options at Liz's website here!
When I initially received the nail shields from Liz, I was a little intimidated, I'm not going to lie. I haven't put any kind of polish on my fingernails for months, maybe even years. I can never keep up with it. Especially with my jobs in health care, I wash my hands SO much that nail polish never stays fresh. There are always chips, dings, and I have to take it off a few days later anyway.
Liz sent me a lovely sheet of chevron- in white and mint green. There were also instructions included with the nails for application, although Liz did pass along
this video
which was really helpful with putting the nails on as well. The process of actually applying the nails did take a bit longer than I thought, about 45 minutes for me, but I tend to be somewhat of a perfectionist, so that doesn't surprise me- I will say that the process was reminiscent of the Lee press on nails my sister and I used to apply when we were like 10, sitting on my mom's bed! :) Basically what I did was file and buff my nails, clean them off, cut the shield to a close approximation of size, heat my nail and the shield, and then heat again while wrapping a little plastic baggy over the nail. (See the video link for the reasoning behind the baggy- it did help!) After that I clipped off the end of the nail, and there was really little if any filing needed.
As you'll see from my pictures below, there are a few bumps and pulls in the nails, which I'll know how to correct next time. I've figured out that I need to pre-trim the bottom of the shields as well. My nails tend to be much wider at the top than at the bottom, so angling the shields in at the bottom with my nail scissors would have been a great help to getting a better fit. I was able to do this with a few at the end, but not all of my nails, hence the imperfections. Take a peek for yourself below.
Here is a picture against my dark walls for comparison.
Also, one close up on a nail. This was one that I slightly trimmed down around the base of my finger nail, which I think worked pretty well.
I was EXTREMELY impressed at just how quickly I could go about my business. Pretty much immediately after I finished putting on the nails, I had to change a diaper and then wash my hands. About 10 minutes after that, we were out of the house and on our way to pick up dinner and head over to a friend's house. Once we got home from dinner, it was bath night for little man, and my hands were submerged in tub water and washing him up for a good period of time.
Throughout all of that above, there were absolutely no changes in the shields. If I would have attempted to do all of that immediately after putting a coat or two of nail polish on my fingers, there would be chips, dings, and random streaks of polish all over my and little man's clothes from carrying him around, if any would have stayed on through the diaper change and hand washing initially after application. In my book, that is a HUGE win.
One other thing that I absolutely loved about Jamberry is that there were no awful nail polish smells. I've told you all before that I'm pretty obsessed with painting my toenails, and to do that, I will pick a breezy day and actually sit out on our back porch to avoid the fumes. I was able to apply the Jamberry nails with no concerns for fumes right in my kitchen. Being pregnant, not having to smell all those chemical fumes that typically accompany nail polish was a huge plus for me.
One other thing I love about supporting Liz and her sales of Jamberry nails is that it helps her stay at home with her children and her family. I know that ever since having little man, it has been very important to me to work as many weekend hours as possible, so that he can be with either DH, myself, or both of us more often, and at daycare less. While I love our day care provider, it is so important to our family to spend as much of our time together as possible. It makes me really happy to be able to support another mama in her quest to do the same.
So, here's where the fun part comes in for you, when you can win your own set! There are two mandatory entries into the giveaway, which you have to complete first to unlock the rest of the entries. Send me a message at thenaptownorganizer at gmail dot com if you have any trouble entering! Good luck!
a Rafflecopter giveaway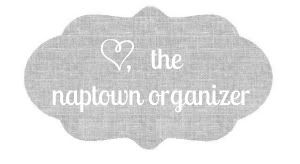 Pin It